Login
Click Register to join WVCTM
Quote
There is no royal road to geometry.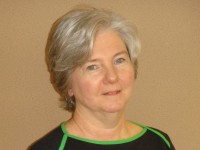 Susan Barrett
As teachers of mathematics, we stand on the threshold of a great opportunity. In the article "Seizing the Moment for Mathematics" William Schmidt of Michigan State University states, "The common core offers the opportunity to revolutionize math instruction in this country, to improve student performance, to close the gap between the United States and its competitors, and to ensure that every American student has an equal opportunity to learn important mathematics content. But it is only a chance, and it is imperative that we seize it." We owe it to our students, to our colleagues, and to ourselves to make the most of this opportunity. WVCTM is here to support you as you take on this challenge, but our organization is only as strong as we make it. I encourage you to take an active role in WVCTM – write an article, recommend a resource, post a comment in one of the forums, and make plans to attend the 2013 conference at the Stonewall Resort March 15-16.
Nearly 450 in Attendance at the 2013 Conference

Conference LogoThe 2013 annual meeting of the West Virginia Council of Teachers of Mathematics was held on March 15 & 16 at the Stonewall Resort. With the backdrop of the rolling hills of West Virginia and Stonewall Jackson Lake, participants were treated to a variety of opportunities to grow professionally as well as the amenities of a luxurious resort. This year's theme was "Mathematics in Motion," appropriately titled as students and teachers "move" to the new Common Core State Standards, which in West Virginia are the Next Generation Content Standards and Objectives. Roger Bennet, conference chair and Cheryl Reger facilities chair, who along with Susan Barret, president, provided leadership as the organization adjusted to the new venue. Sessions spoke to the impending changes in curriculum as West Virginia embraces the Common Core. Some of these included: "Does This Make Sense? Convince Me!", "It's More Than the Answer", "Thinking Math and The Common Core—Strategies for Mathematics in Motion", "Empowering Students Through the Use of Structure", "Evidence of Student Learning: What Does It Look Like?", and "Building Powerful Numeracy for Middle and High School Students."

shaughnessyThe banquet, always a highlight of the conference, featured as speaker Dr. Michael Shaughnessy, who is the immediate past president of the National Council of Teachers of Mathematics. Dr. Shaughnessy navigated the organization through the initial phasing in of the Common Core Standards with an emphasis on building reasoning and sense making of mathematics. He has taught mathematics content courses and directed professional development experiences for mathematics teachers at all levels, K–12, as well as community college and university. He has authored or coauthored more than 60 articles, books, and book chapters on issues in the teaching and learning of mathematics. Throughout his career, his principal research interests in mathematics education have been the teaching and learning of statistics and probability and the teaching and learning of geometry. He shared some interesting problems with banquet attendees that sparked curiosity and conversation.

Myrtle Holland, Dennine LaRue, Sheila Ruddle, Mary Ellen Komorowski, Adam FletcherThe following individuals were elected to serve on the Executive Committee for WVCTM for a two-year term: Sheila Ruddle, a teacher at Pendleton County Middle/High School will serve as President Elect; Dennine LaRue, a professor at Fairmont State University will serve as Vice President for College; Myrtle Holland, a teacher at Musselman Middle School, will serve as Vice President for Middle School; Adam Fletcher, a professor at Bethany College will serve as secretary; and Mary Ellen Komorowski, a professor at Bethany College will serve as Member-at Large.

Boyd Holtan, Sarah Miller, Melanie SheppardAt the annual WVCTM meeting, grants were also presented to both deserving practicing teachers and pre-service teachers. Named for Dr. Boyd Holtan, a retired professor from West Virginia University, the Golden Holtans are grants for practicing classroom teachers for development of a particular project in their classrooms. These projects must reflect the state CSO's in mathematics. This year's Golden Holtan Grant recipients include Wheeling Park High School teacher, Lindsay Dunaway, for her project entitled "The Neo3 Pet Project;" Wheeling Park High School teacher, Ryan Miller, for his project "Mathematics in Motion;" Fairmont Senior High School teacher, Sarah Miller, for her project "21st Century Learning;" Fairmont Senior High School teacher, Hope Wright, "Improving Classroom Learning;" and Eastern Greenbrier Middle School teacher, Melanie Sheppard, for her project "It's Sew the Point." Each recipient was awarded $400 to facilitate his/her project.

Read more...

Mourning the Loss of Nick Baker

Nick BakerThe mathematics community lost a visionary leader with the passing of Charles "Nick" Baker on February 2, 2013. Nick graduated from Ohio University with a B.A. and Masters in Mathematics and was a member of Phi Beta Kappa. He was an Associate Professor Emeritus at West Liberty State College where he taught for 36 years. During his tenure at West Liberty, he served as chair of the mathematics department and School of Natural Sciences and Mathematics. Nick was an active member of the West Virginia Council of Teachers of Mathematics, serving in many capacities including president. He was recognized by WVCTM in 1994 with the Distinguished Service Award (known as "The Chair" Award) and in 2007 as the College Mathematics Teacher of the Year. In addition, Nick served as a member of the Ohio Board of Education from 1994 to 2006. Nick's friendly face and caring manner were a regular fixture at WVCTM annual conferences; he will be missed. A scholarship fund has been established in his memory. Donations can be sent to:

     Nick Baker Mathematics Scholarship Fund

     West Liberty University Foundation

     College Union Box 126

     West Liberty, WV 26074

WVCTM Salutes the 2013 Award Winners


Lucie RefslandThe most prestigious award given by WVCTM is the Distinguished Service Award, presented to the individual who has done exemplary work statewide in mathematics education. The award includes a Captain's Chair with an engraved plaque, hence it is often referred to as "The Chair" Award. The 2013 recipient is Lucie Refsland, a mathematics professor at New River Community and Technical College, who has dedicated her career to improving the quality of mathematics education in West Virginia at all levels. Dr. Refsland was characterized by a colleague as "inspiring students to be the best that they can be, both academically and professionally." She has instituted mathematics lab access for all students as well as specialized tutorial sessions for students entering and progressing in the teacher education program. In one of the counties in which many of her former students now teach, a director noted "a dramatic improvement in the quality of mathematics teachers as a result of her efforts. These graduates are well schooled in inquiry-based mathematics, technology integration and best practices in mathematics instruction.

It is critical to improving mathematics instruction that our county have well-trained, knowledgeable and competent elementary and middle school mathematics instructors in our system. Dr. Refsland has been dedicated to this goal." Dr. Refsland has written or collaborated on many grants dedicated to the teaching of mathematics. She has helped upgrade mathematics education pedagogy in K-12 schools and at the college level and has worked in cooperation with the West Virginia Department of Education toward this goal. A resident of Lewisburg, Refsland holds a bachelor's degree in mathematics education from West Virginia University, a master's degree in education administration from Duke University and a doctorate in mathematics education from Virginia Tech. Dr. Refsland has also been recognized as the West Virginia College Teacher of the Year in 2003 and in 2008 West Virginia's "Professor of the Year." Her president, Dr. Ted D. Spring commented, "Dr. Refsland represents the best of our profession. Because of her commitment and generosity to the profession, she has created an atmosphere for learning that has truly changed lives and will impact generations to come."

WVCTM Mathematics Teachers of the Year are those who exemplify the highest standards of mathematics teaching and provide a role model for their colleagues.

Mark Goldstein and Mike MaysMark Goldstein was recognized as the 2013 College/University Mathematics Teacher of the Year. He is currrently a mathematics professor at West Virginia Northern Community College. Mark received a masters degree from West Virginia University. For many years he has been the advisor for Phi Theta Kappa on the New Martinsville Campus. A colleague describes him as "one of the most loyal and supportive members of the state Advisory Council of Faculty--a rock, always enlightened, always ready to share new ideas and the innovative programs that Northern has established . . .

Read more...