Quote
The mathematics are distinguished by a particular privilege, that is, in the course of ages, they may always advance and can never recede.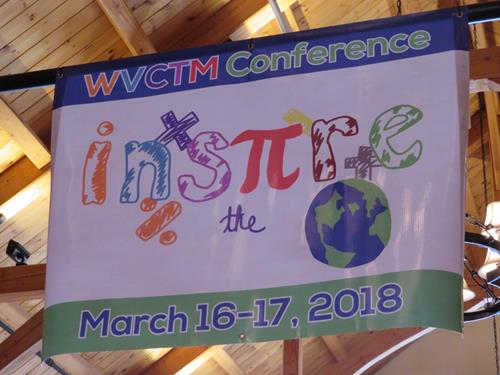 The 2018 annual meeting of the West Virginia Council of Teachers of Mathematics was held on March 16 & 17 at the Stonewall Resort. With the backdrop of the rolling hills of West Virginia and Stonewall Jackson Lake, participants were treated to the amenities of a luxurious resort and to a variety of opportunities to grow professionally. This year's theme logo, designed by Ryleigh Tennant, a student at University High School in Morgantown, was "Ins(pi)re the World." Myrtle Holland, president, along with Sheila Ruddle, past president, provided leadership for coordinating the event.
The keynote speaker, Dr. Karin Wiburg, opened the conference with "Creating Success in Mathematics for All Students." Dr. Wiburg shared her experiences in successfully addressing the needs of all students in improving their mathematics performance. Her work with Math Snacks games and videos provided the centerpiece for addressing the gaps that plague so many students. Over 90 sessions were available for educators at all grade levels, including "Inspiring Fluency," "Innovations Pave the Road to Success," "What's New in Desmos's Activity Builder," "Ins(pi)re the World, One Strategy at a Time," "Mindset Matters," "Legos: Creating a Space for Mathematical Thinking," and "My First Year with Google Classroom." Teachers found themselves in sessions immersed in both content and pedagogy. The banquet, always a highlight of the conference, featured the Oberon Trio, as well as a wealth of vendor-donated door prizes and numerous teacher awards and recognitions.
The most prestigious award given by WVCTM is the Distinguished Service Award, presented to the individual who has done exemplary work statewide in mathematics education. The award includes a Captain's Chair with an engraved plaque, hence it is often referred to as "The Chair" Award.

The 2018 recipient is Roger Bennett, a retired teacher from Boone County Schools.

Roger holds a BA in Elementary Education, with Specialization in Social Studies, Math, and Children's Theatre, and an MA in Elementary Education/Emphasis in Math through Algebra I. Before retiring in 2013, he taught in Boone County for 35 years, in grades kindergarten through graduate school, including many years as an elementary instructional coach and four years as Assistant Professor in the Marshall University Graduate School. He is currently a Carnegie Learning Master Practitioner. During his career, Roger received numerous awards including Boone County Teacher of the Year and three Education Alliance Grants. His sessions at the annual WVCTM conference are some of the largest in attendance as he always has innovative ideas for enhancing mathematics instruction. Bennett also serves as the Council's representative to the National Council of Teachers of Mathematics and is a member of the NCTM Policy and Membership Committee.

WVCTM Mathematics Teachers of the Year are those who exemplify the highest standards of mathematics teaching and provide a role model for their colleagues.

Laurel Dilley was recognized as the 2018 High School Mathematics Teacher of the Year. Currently a mathematics teacher at Pocahontas County High School, she recalls as a college student defending her dream of becoming an educator. "I started pushing myself to be extra vocal and confident when somebody asked about my major," she said. "I want to be a teacher because I want to make a difference in multiple children's lives. I want to be a teacher because I love math and what better way to share that love than to expose students to it."

Pocahontas County mathematics teachers have become known statewide for their creative approaches to teaching and the success that their students have experienced. "I've been in good circumstances," Laurel stated. "All the success we've had in the math department is not solely on one person. I feel like we've just taken on a completely different model for teaching and viewpoint on teaching, and that's thanks to Joanna Burt-Kinderman's work and all of us working together." A colleague wrote the following. "Laurel has absolute belief in and affection for young people. She has that 'gift' that certain teachers have that is a magnet to young people. She is a committed and hard-working educator whose intelligence, skill, insight and passion are at the center of her work, enriching everyone she comes in contact with. [She is] committed to teaching math creatively and well, to learning about her craft, and to advocating for the importance to young people of learning mathematics and becoming generous, learning citizens of their place in this world."

In addition to her regular teaching duties, she has designed a new computer science course. An amazing 80% of her students have changed their intended major, minor or career path due to this course. Additionally, her STEM club students won a statewide Verizon App development contest, designing a better communication solution for natural disasters. Laurel has attended numerous conferences, both as a participant and as a presenter, and has returned exuberant and ready to impact her students in yet a different way. Her classes are never static, but constantly evolving to reflect her own new learning. Her students are never passive learners, but always active participants, reasoning logically and justifying their conclusions. Laurel is a visionary teacher who pushes her students and her colleagues to continually do their best and challenge themselves.

Fred Albert was recognized as the 2018 Middle School Mathematics Teacher of the Year. He is currently a mathematics teacher at Dupont Middle School in Kanawha County. A colleague shared the following: "During his 26 years of teaching, Fred has served as a mentor for many young teachers. He is a PLC Facilitator in his building and has received the Kanawha County Educator Spotlight Award. Each month, he attends or presents at monthly math user nights for math teachers in the county. When Kanawha County went to 1:1 with iPads, he was one of the first to sign up for training, and he continues to try new ways of integrating technology into his classrooms." Fred's efforts have obviously been successful, as DuPont Middle School is always at the top of the county in standardized testing. In 2016 he was recognized as the Kanawha County Teacher of the Year. Fred truly knows what mathematics teaching and learning should look like and is a role model who is always willing to share his expertise with colleagues and novice teachers alike.

Read more...

NCTM Annual 2018 is Coming to DC!

Written by Mark Alvaro

NCTM DC Conference Logo

The 2018 NCTM Annual Conference will take place in Washington, DC from April 25th through the 28th. This is especially close to West Virginia so hopefully we'll see you there! Check out the flyer for more info.

The following individuals were elected to serve on the Executive Committee for WVCTM for a two-year term: Allan Meck, a teacher at Hampshire High School in Hampshire County will serve as Vice President for High School; Melanie Meck, a coach in Hampshire County Schools in Hampshire County will serve at Vice President for Elementary; Allison Miller, a teacher at Spencer Elementary School in Roane County will serve as Member-at-Large; Samantha Service, a teacher on leave from Berkeley County and currently a teaching assistant at WVu, will serve as Historian; Jeanne Finstein of Polyhedron Learning Media in Ohio County will serve as Community Relations Coordinator; and Sheila Ruddle, retired mathematics teacher from Pendleton County, will serve as NCTM Representative.

At the banquet of the annual conference, Roger Bennett, Golden Holtan Grant chair, shared the purpose of the Golden Holtans, the new awardees of these grants, and encouragement for future applicants. Named for Dr. Boyd Holtan, a retired professor from West Virginia University, the Golden Holtans are grants for practicing classroom teachers for development of a particular project in their classrooms. Checks for each of the selected projects were presented by Dr. Holtan.

This year's Golden Holtan Grant recipients were Sara Dailey, a teacher at John J. Cornwell Elementary in Hampshire County, for her project entitled "Taking Measurement to New Heights (and Lengths and Widths)"; Rhonda Moore, a teacher at Capon Bridge Elementary in Hampshire County, for her project entitled "Code and Grow;" and Jennifer McIntosh, a teacher at Parkersburg South High in Wood County, for her project entitled "Board Games in the Classroom."

Sheila Ruddle, a retired mathematics teacher from Pendleton County and past WVCTM president, presented the Walter Regula Mathematics Teacher-in-Training Grant to Kirsten Minger, a student at Fairmont State University, who will graduate with a BA in secondary education and a BS in mathematics. This award is given in honor of Walter Regula, Sheila's father, who was a mathematics education professor at Marshall University and who also served as president of WVCTM.

In her application Kirsten made the following comments: "I aspire to have a positive influence on my students, encourage them to do well, inspire them to love mathematics, and to show them that all students can succeed when given the right tools and skills." Her advisor noted that during Kirsten's classroom experience, she was "a joy to observe. She incorporated a variety of instructional strategies, including games and other activities, that engaged the students in active learning." Her questionning techniques not only allowed her get inside the thinking of her students, but also provided an avenue for deepening their understanding. Kirsten will be a great addition to any mathematics department.

The Presidential Award Finalist for 2017 was also recognized: Craig Mason, a teacher at Magnolia High School in Wetzel County, was presented a certificate and plaque. He will advance to the national competition.

Dr. Boyd Holtan, retired mathematics education professor at WVU, was honored with a 50-year pin for his continued membership at WVCTM. He served in many capacities in the organization and was recognized with the Distinguished Service Award in 1984. He continues to attend the annual meeting and has been a powerful influence on the teaching of mathematics in West Virginia for decades.

WVDE TREE Resources Available Now

Written by Mark Alvaro

TREE LogoWith the upcoming change from the TEACH21 site to the new TREE teacher resource page, the West Virginia Department of Education has tasked West Virginia educators with finding the best, free Online Educational Resources (OERs) to place on the new site.

The final result of this project will mostly likely be a web app that teachers will be able to use to search for resources for Math 6, 7, 8, I, II, and III. While that web application is being developed, the state has released spreadsheets that list the OERs with titles, links, descriptions, and the CCRS alignment. Each course's sheet contains tabs at the top to navigate through the domains.

WVCTM High School Teacher of the Year, Amy Cowgill, said of the resources: "We've narrowed the whole internet down to this list."

Hopefully teachers will enjoy quick access to resources from Open Middle, Dan Meyer, Desmos, Khan Academy, LearnZillion, Illustrative Mathematics, the Math Assessment Project, Emergent Math, the Math Vision Project, and more!

View the sheets by clicking here or you can use the following link: http://wvtreemath612.weebly.com/

myrtle

Dear Colleagues and Friends,

Happy New Year! I hope for each of you a happy, healthy, and prosperous 2017!

I am very honored to be your new president. My vision for my tenure is to keep mathematics education as the main focus in West Virginia. Our students deserve the best that we as educators can give them. By providing current ideas, strategies, techniques, and coherency in the forefront, we can enhance our professional practices, which will lead our students toward mathematical proficiency.

Believe me, we all have to work together to reach our goal. To do this, I ask you to work collaboratively with your school and county educators. In my county, the eighth grade teachers meet monthly during off school times. We enjoy a cup of coffee and exchange ideas and lessons. I also ask you to attend professional developments that are of interest to you and to read blogs and follow some of the leading math educators. All of the leaders in math are on Facebook and have blogs.

In fact, I would ask that if you find an especially interesting blog, article, or lesson, send it to Mark Alvaro and Jeremy Knight so it can be shared on our site and on our Facebook page. We are all in this together and it is up to all of us to provide the best mathematics education and make it accessible to all West Virginia students.

Thank you for all of your support and continued dedication to our students. I would also like to thank Shelia Ruddle (Past-President) and the executive committee for all the help and support that they have and are continuing to give me.

I look forward to seeing you at our annual conference at the Stonewall Jackson Resort on March 17-18, 2017.

Yours sincerely,

Myrtle Holland, NBCT

President, WVCTM
<<

Start

<

Prev

1

2 3 Next > End >>