At the annual WVCTM meeting, grants were also presented to both a deserving practicing teacher and a pre-service teacher. Named for Dr. Boyd Holtan, a retired professor from West Virginia University, the Golden Holtans are grants for practicing classroom teachers for development of a particular project in their classrooms. These projects must reflect the state standards in mathematics. This year's Golden Holtan Grant recipient is Janice Hirst, a teacher at Kingwood Elementary School in Preston County, for her project entitled "Fact Fluency/Problem Solving Challenge." She was awarded $400 to facilitate her project.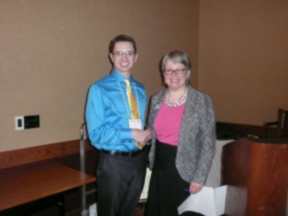 Sheila Ruddle, a mathematics teacher from Pendleton County and current WVCTM president, presented the Walter Regula Mathematics Teacher-in-Training Grant to Tyler Gunnells, a student at West Virginia University majoring in secondary mathematics education. This award is given in honor of Walter Regula, Sheila's father, who was a mathematics education professor at Marshall University and who also served as president of WVCTM. One of Tyler's college professors made the following comments: "As a part of the Benedum Collaborative Teacher Education Program at WVU, Tyler moved through a rigorous set of coursework and a rich set of field-based experiences during which he has observed and analyzed the work of mathematics teaching and has also gained significant experience actually doing the work. He sought out additional professional opportunities as a "Supplemental Instruction" leader for the Calculus I course on campus, and he partnered with a faculty member in the mathematics department as an undergraduate research assistant on a project looking at the use of active learning and other instructional strategies across calculus classes." From the small town of Hanover in southern West Virginia, Tyler possesses a passion for mathematics and a deep commitment to the teaching profession.
Also recognized was the 2014 West Virginia Finalist for the Presidential Award for Excellence in Mathematics and Science Teaching, Cynthia Evarts from Orchard View Intermediate School in Berkeley County.