WVCTM Salutes the 2016 Award Winners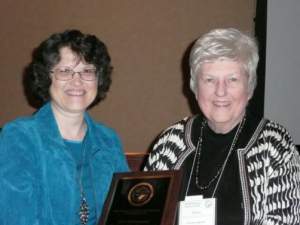 Dennine Larue and Shirley DavisDr. Shirley Davis was recognized as the 2016 College/University Mathematics Teacher of the Year. She is currrently a professor of mathematics at the New River Technical and Community College, a position which she has held since 2005. Prior to that time she taught high school mathematics and served as a Midwest and National Mathematics Consultant for Merrill, McGraw-Hill and Macmillan publishing companies. Her President L. Marshall Washington noted that "Dr. Davis is an exceptional professor and each semester her students are inspired by her dedication, wisdom and commitment to education."
One of her colleagues wrote, "Shirley's door is always open for students, so much so that they lovingly call her Doc. Her classes are usually full, both in the classroom and online. Each semester she teaches an overload in order to meet the needs of her students, often teaching an independent online course when only a few students require the course." She has developed, written, and now teaches a mathematics course specifically designed for students enrolled in Allied Health programs. Last summer Shirley launched a "Boot Camp" for developmental math students that enabled students to advance successfully to receive credit towards their degree programs. In 2012 she was privileged to travel to Amman, Jordan, to work with teachers in Palestinian refugee schools operated by the United Nations, and in a large international school that sends students to the United States for college. She has earned a reputation as a committed educator who strives to push her students' thinking to force them to dig below the surface and deepen their understanding.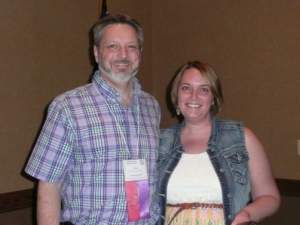 Allen Meck and Amy CowgillAmy Cowgill was recognized as the 2016 High School Mathematics Teacher of the Year. Currently a mathematics teacher at Frankfort High School, Amy received both her bachelor's and master's degrees from Frostburg State University. Her principal noted, "It is a privilege to write a letter of recommendation for Mrs. Amy Cowgill, whom I have known professionally for 9 years. Mrs. Cowgill has been under my supervision as a math teacher of grades 9-12, where she has never failed to conduct herself in a professional, competent, and amiable manner in regard to her duties, her colleagues, and her students. She models appropriate academic standards and sets high expectations for all her students, regardless of demonstrated student success or ability. It is without reserve that I highly recommend her for this honor." A colleague added, "We are certainly fortunate that Amy became a teacher in Mineral County and has become a valued member of the Frankfort High School staff, currently serving as the mathematics chair. She has led many community service projects with students with a group that she founded and named SMILE (Students Making an Impact on Lives of Everyone). Amy has continued to grow as a teacher, both mathematically and professionally, and has attained National Board Certification. She has presented numerous professional development workshops at the county, state, and national levels, including the High Schools That Work National Conference. She consistently is innovative in implementing the vision of a 21st Century classroom. Her original and creative ideas, coupled with her energy and enthusiasm, have earned her a reputation as a dynamic educator."


Amy Rice, Candace Lewis and her husbandCandace Lewis was recognized as the 2016 Middle School Mathematics Teacher of the Year. She is currently a mathematics teacher at Jackson Middle School in Wood County. Her principal wrote, "Mrs. Lewis is one of the most passionate mathematics teachers that I have ever known. She loves children and the subject matter that she teaches. To observe her in action is an incredible treat as she is highly innovative in how she presents the lessons. All of her students, regardless of their ability levels, are highly engaged, and the results that she produces are simply astounding. Wood County Schools is blessed to have such a talented teacher." A colleague added, "Candace is currently serving as Wood County Teacher of the Year as a recognition of her exemplary teaching that is manifested in her deep understanding of instructional strategies and a commitment to meeting students' needs. She is often utilized (by Wood County Schools and RESA V) as a 'model' teacher." Other teachers are invited to observe in her classroom, engage in a professional dialogue based on that experience, and thus build an understanding of meaningful practice. Those teachers then adapt Candace's techniques and suggestions to transform their own classrooms. A colleague noted, "Not only is she a terrific teacher, but she also truly loves her subject matter and continuously has a smile on her face while teaching."
Barbara Black and Lisa SuttonLisa Sutton was recognized as the 2016 Elementary School Mathematics Teacher of the Year. Lisa is currently a teacher at Overbrook Elementary School in Kanawha County. She received her bachelor's degree in elementary education from West Virginia State University. In 2015 she was named the Kanawha County Council of Teachers of Mathematics Elementary Math Teacher of the Year. A colleague wrote, "Lisa Menninger Sutton has an unsurpassed talent for working with teachers, principals and children. She cultivates relationships with individuals and then is able to help them understand and be successful in math. She mentors her co-workers and coaches them in math understanding and pedagogy. This, in turn, helps them become better math teachers." Another added, "Lisa has taught 20+ years in Kanawha County elementary schools, primarily at the 4th grade level. She has been a Thinking Math Instructional Coach, a Title I Math teacher and is presently a Math Interventionist. She cares deeply about our students and their success in math and spends many hours after school tutoring elementary and middle school students."