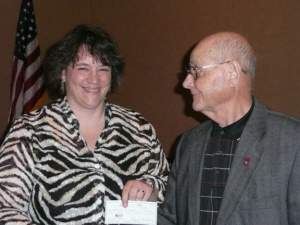 Melanie Sheppard and Boyd Holtan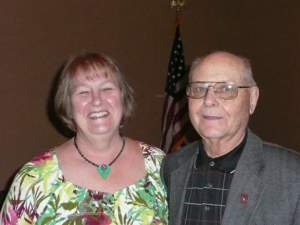 Janice Hirst and Boyd HoltanAt the banquet of the annual conference, Diana Munza, Golden Holtan Grant chair, creatively shared the purpose of the Golden Holtans, the new awardees of these grants, and encouragement for future applicants. Those in attendance answered questions via their cell phones on Kahoot which engaged everyone in the announcements. Named for Dr. Boyd Holtan, a retired professor from West Virginia University, the Golden Holtans are grants for practicing classroom teachers for development of a particular project in their classrooms. Checks in the amount of $400 for each of the projects were presented by Dr. Holtan. This year's Golden Holtan Grant recipients were Melanie Sheppard, a teacher at Eastern Greenbrier Middle School School in Greenbrier County, for her project entitled "Just LEGO and Do Da Math!" and Janice Hirst, a teacher at Kingwood Elementary School in Preston County, for her project entitled "Get Down, Get Dirty, Grow Math."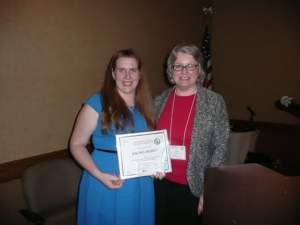 Sheila Ruddle and Rachel BurkySheila Ruddle, a mathematics teacher from Pendleton County and current WVCTM president, presented the Walter Regula Mathematics Teacher-in-Training Grant to Rachel Burky, a student at West Virginia University majoring in secondary mathematics education. This award is given in honor of Walter Regula, Sheila's father, who was a mathematics education professor at Marshall University and who also served as president of WVCTM. In her application Rachel made the following comments: "Math has always been my strongest subject. I enjoy the logical reasoning behind solving mathematical problems and deducing what the answer must be. My love for math is one of the reasons I decided I wanted to teach. All throughout school, my classmates have come to me with questions regarding our math assignments, and I have always enjoyed helping them answer their questions. I get a thrill out of not only solving a difficult math problem or proof, but also being able to explain it to someone else who is struggling. This satisfaction has led me to pursue a career as an educator in a field that I enjoy studying and learning more about every day."
Heather Simmons, a kindergarten teacher at Moorefield Elementary School in Hardy County became the fifth recipient of the Steve Dellinger Scholarship. The Dellinger Scholarship is named for long-time WVCTM member and officer, Steve Dellinger. The purpose of the award is to encourage a new, elementary-level mathematics teacher by providing a id="mce_marker"00 gift certificate to purchase items at the NCTM booth at the conference.


Cathy Walker, Rick Kinder, and Cindy Burke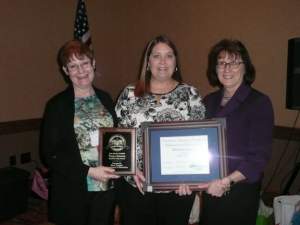 Cathy Walker, Tonya Roberts, and Cindy BurkeAlso recognized were the 2015 West Virginia Finalists for the Presidential Award for Excellence in Mathematics and Science Teaching, Rick Kinder from Gilmer County High School in Gilmer County, Tonya Roberts from Bluefield High School in Mercer County, and Sarah Snyder from Fairmont Senior High School in Marion County.